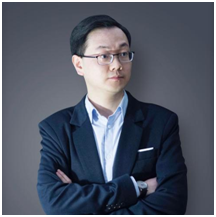 贾广帅,博士,徐州医科大学肿瘤生物治疗研究所教授、博士生导师。本硕毕业于武汉大学、中国科学院,博士毕业于哥本哈根大学,先后在瑞士联邦理工学院和德国马普学会心肺研究所从事博士后研究。主要从事单细胞和空间转录组学与肿瘤免疫学相关研究。发表SCI论文9篇,其中以通讯或第一作者身份在Nature Communications、Clinical Cancer Research、Clinical and Translational Medicine等权威期刊上发表SCI论文4篇,累计影响因子大于110,他引大于300次。担任Nature Communications、Frontiers in Genetics等国际期刊审稿人。授权发明专利1项,主持国家自然科学基金、徐州医科大学优秀人才启动基金等项目。
研究方向:单细胞、空间转录组学与肿瘤免疫学相关研究。
代表论文 (#共同第一作者;*共同通讯作者)
1、Single-cell analyses reveal mechanisms of cancer stem cell maintenance and epithelial-mesenchymal transition for bladder cancer recurrence. Huanjun Wang#, Yan Mei#, Cheng Luo#, Qun Huang#, Zifeng Wang#, Guanming Lu, Lili Qin, Zhun Sun, Chaowen Huang, Zhiwen Yang, Junxing Chen, Weiguo Yin, Chaonan Qian, Jianming Zeng, Lingwu Chen, Qibin Leng*, Yan Guo* andGuangshuai Jia*.Clinical Cancer Research.2021 Sep 15; clincanre.4796.2020. doi:10.1158/1078-0423.CCR-20-4796. (通讯作者)(影响因子12.53)
2、Single-cell analyses reveal suppressive tumor microenvironment of human colorectal cancer.
Mei Y#, Xiao W#, Hu H#, Lu G#, Chen L, Sun Z, Lü M, Ma W, Jiang T, Gao Y, Li L, Chen G, Wang Z, Li H, Wu D*, Zhou P*, Leng Q*,Jia G*.Clin Transl Med.2021 Jun;11(6):e422. doi: 10.1002/ctm2.422. (通讯作者)(影响因子11.49)
3、Single cell RNA-seq and ATAC-seq analysis of cardiac progenitor cell transition states and lineage settlement.Jia G#, Preussner J#, Chen X#, Guenther S, Yuan X, Yekelchyk M, Kuenne C, Looso M, Zhou Y, Teichmann S, Braun T.Nat Commun.2018 Nov 19;9(1):4877. doi: 10.1038/s41467-018-07307-6. (第一作者) (影响因子14.91)
4、A systematic evaluation of the compatibility of histones containing methyl-lysine analogues with biochemical reactions.Jia G,Wang W, Li H, Mao Z, Cai G, Sun J, Wu H, Xu M, Yang P, Yuan W, Chen S, Zhu B. Cell Res.2009 Oct;19(10):1217-20. doi: 10.1038/cr.2009.110. (第一作者) (影响因子25.61)
5、Identification of FABP5 as an immunometabolic marker in human hepatocellular carcinoma.Liu F, Liu W, Zhou S, Yang C, Tian M,Jia G, Wang H, Zhu B, Feng M, Lu Y, Qiao T, Wang X, Cao W, Wang X, Shi Y, Wu D.J Immunother Cancer. 2020 Jul;8(2):e000501. doi: 10.1136/jitc-2019-000501. (影响因子9.91)
6、Heterogeneity of exhausted T cells in the tumor microenvironment is linked to patient survival following resection in hepatocellular carcinoma.Liu F, Liu W, Sanin DE,Jia G,Tian M, Wang H, Zhu B, Lu Y, Qiao T, Wang X, Shi Y, Wu D.Oncoimmunology.2020 Apr 5;9(1):1746573. doi: 10.1080/2162402X.2020.1746573. (影响因子8.11)
7、Single-cell expression profiles of ACE2 and TMPRSS2 reveals potential vertical transmission and fetus infection of SARS-CoV-2.Lü M, Qiu L,Jia G,Guo R, Leng Q.
Aging. 2020 Oct 26;12. doi: 10.18632/aging.104015. (影响因子5.68)
8、Single-cell RNA sequencing infers the role of malignant cells in drug-resistant multiple myeloma.Wang HN, Yang J, Xie DH, Liang Z, Wang Y, Fu RY, Liu X, Xia ZJ,Jia G, Wang L.Clin Transl Med.2021 Dec;11(12):e653. doi: 10.1002/ctm2.653. (影响因子11.49)
9、Loss of TET2 in hematopoietic cells leads to DNA hypermethylation of active enhancers and induction of leukemogenesis.Rasmussen KD,Jia G, Johansen JV, Pedersen MT, Rapin N, Bagger FO, Porse BT, Bernard OA, Christensen J, Helin K.Genes Dev.2015 May 1;29(9):910-22. doi: 10.1101/gad.260174.115. (影响因子11.36)